PTC Arbortext Helps Customize the Content Dynamically to Catch Up with the Changes along the Software Development Cycle
PTC Arbortext is a cutting-edge dynamic publishing solution in the Product Data Management (PDM) software categories. This DITA-compliant authoring tool is a single-source content creation system that eases the entire workflow from content creation to content delivery. DITA or Darwin Information Typing Architecture is a structured-based documentation process, in which content is created in topic-based structure and each topic and elements are tagged to enable customize the document output. Any topic can be reused in the same document or even in another one as and when required. Organization for the Advancement of Structured Information Standards (OASIS) promotes DITA for managing content for wider usability.
PTC Arbortext can be integrated with tailor-made tools such as Arbortext Styler, Arbortext Editor, Arbortext IsoDraw, Creo Illustrate, and Windchill Solution. Many other add-on tools such as Windchill Base, Windchill Service Information Manager, Windchill Service Parts, Arbortext Content Delivery, Arbortext Publishing Engine, Arbortext Layout Developer, Vuforia Studio, Vuforia View can also be integrated to achieve certain goals.
Arbortext Styler allows to create well-organized style sheets (CSS) to maintain consistency in language, layout, and design. Arbortext Editor helps to create contextual documentation and manage XML files.
Arbortext IsoDraw and Creo Illustrate allow to create illustrations in 2D and 3D CAD formats. By using rich designed images, stunning catalogs and collaterals can be created both for digital and print formats. Windchill Solution supports content management system.
The ability of PTC Arbortext, being integrated with such robust tools, make it more suitable for large and heavy documentation requirement.
Create Content in a Single Source
In PTC Arbortext, technical writers can create huge content, especially images, drawings, diagrams, and screenshots. The images in 3D generally are large in size and it is difficult to manage them in traditional word processors. Here, PTC Arbortext has the upper edge that can manage huge files. The images can be inserted or embedded in the documents easily. The documents can be delivered in various outputs, including RTF, PDF, HTML, HTML5, Web Help, and EPUB.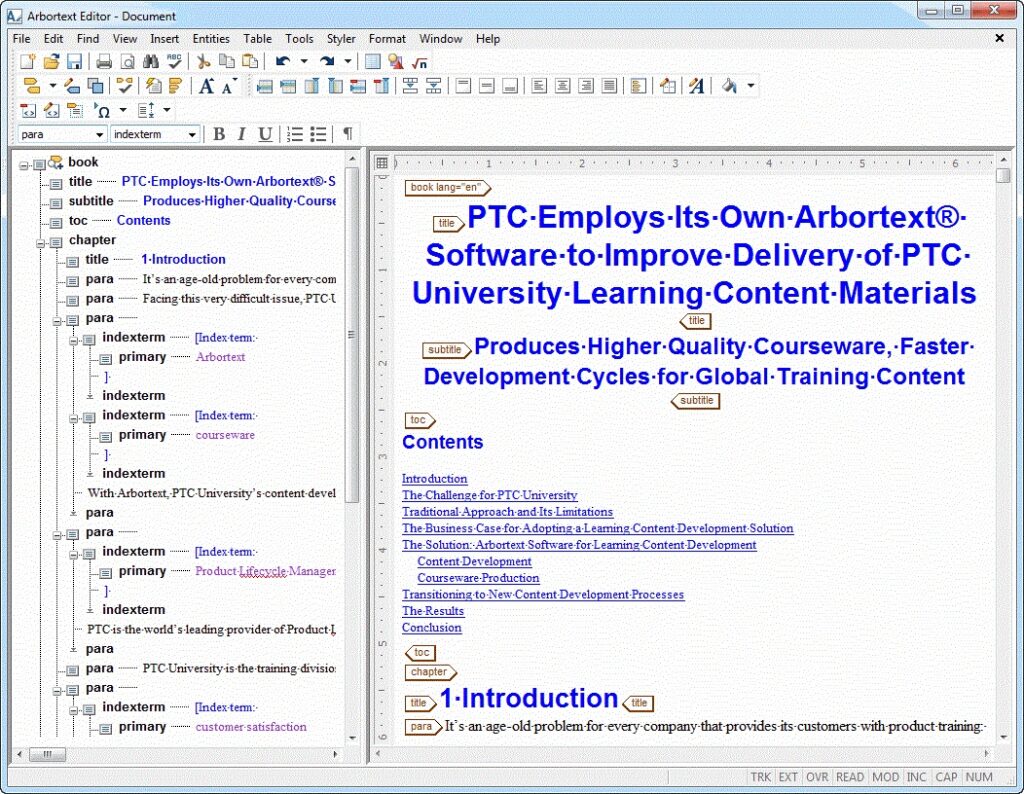 Manage Content Seamlessly
PTC Arbortext allows to create huge content in a single source, but at the same time the content can be customized for different needs. With this facility, different sets of documents can be created for different audience from the same source of content. This means you can reuse content in parts and in full anywhere or can create new chapters with customized content. For example, the documents such as customer service manuals (user guides), installation guides (quick start guides), service or support documentation, knowledge base articles or other kinds of service manuals can be created from the same source.
If any product documentation is made available in multiple languages, it costs proportionally. However, if different sets of documentation outputs can be created from the same source, it is bound to reduce the cost on writing documents and translating them subsequently. Although PTC Arbortext comes in suite, it is comparatively cost effective than other PDM software products.
Deliver Content Dynamically
PTC Arbortext is generally integrated with Windchill Solution, which is a content management system. As a combined authoring tool, it facilitates publishing as well, and empowers to collaborate with different software development stages. Writers can sync with the real-time developments in the products and dynamically update the content. Hence, the customer manuals are always accurate and up to date.
Most attractive features of PTC Arbortext include:
Collaborative contribution from different stakeholders.
Adaptive to the software development cycle.
DITA complaint.
XML tagging.
Contextual Help support.
Single source for multiple outputs.
Supports more than 25 languages including the Right-To-Left (RTL) languages.
Automates authoring and publishing processes.