Know the reasons why attention span is shortening and how to hold audience attention
"In fact, the average human attention span shrunk by nearly a quarter between the year 2000 and 2015, and we're now lagging behind the humble goldfish in terms of being able to focus on a task or object."

According to research, our attention span has markedly decreased in just 15 years. In 2000, it was 12 seconds. Now, 15 years later, it's shrunk significantly to 8.25 seconds.

In fact, scientists reckon we now have shorter attention spans than goldfish, who are able to focus on a task or object for 9 seconds."
Source: https://www.wyzowl.com/human-attention-span/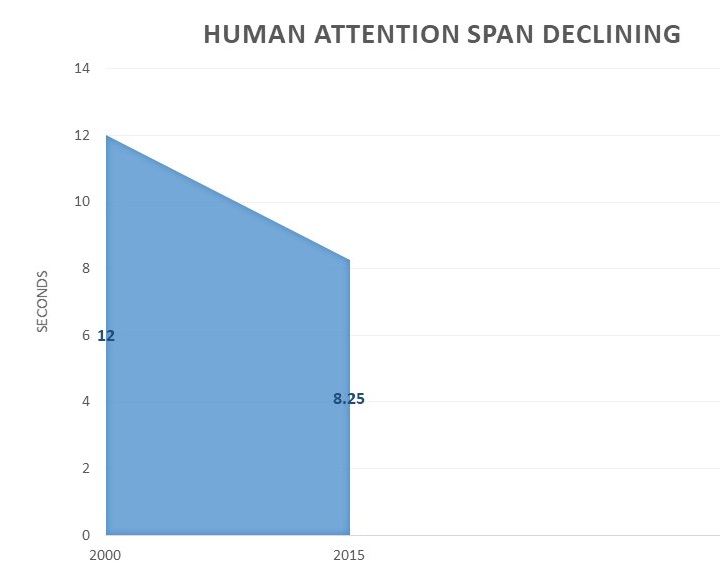 Figure 1: Human attention span decline over 15 years
These trends are cause of concern for marketers, SEO experts, content writers, and video makers.
Although most of the research shows the attention span is declining remarkably, they do not focus light on the reasons why the attention is declining and how to hold audience attention. This article explains how to grab attention of the audience.
Some of the common reasons why attention is declining are as follows.
1. Competitive Content Types Floating Across
Video content is more preferred than the text based content. Reading text based content strains mind, takes time, and is tiring, while the video content is light on mind and is pleasing.
1 According to a survey done by Tubefilter in 2019, 500 hours of videos are uploaded every minute to YouTube alone. We should not forget that there are dozens of video platforms other than YouTube such as Vimeo, HotStar, JioTV, prime video (Amazon), Facebook, Instagram, Panopto, IBM Watson Media, Brightcove, Media Platform, Qumu, Microsoft Stream, Kaltura, JW Player.
On an average, Indians are spending 1 hour 11 minutes on daily basis on YouTube alone. This shows how much viewership would be from all video streaming platforms.
2 Videos in various languages are available in large number than the web content. Videos on YouTube are available in more than 10 Indian languages, where Hindi is the dominant language. Videos in other languages popular on the internet are in Telugu, Kannada, Tamil, Bengali, Gujarati, Punjabi, Marathi, and others.
"93% of YouTube viewers prefer watching content in Indian languages"
Source: Financial Express (https://www.financialexpress.com/brandwagon/youtube-brandcast-2021-93-of-youtube-viewers-prefer-watching-content-in-indian-languages/2330697/)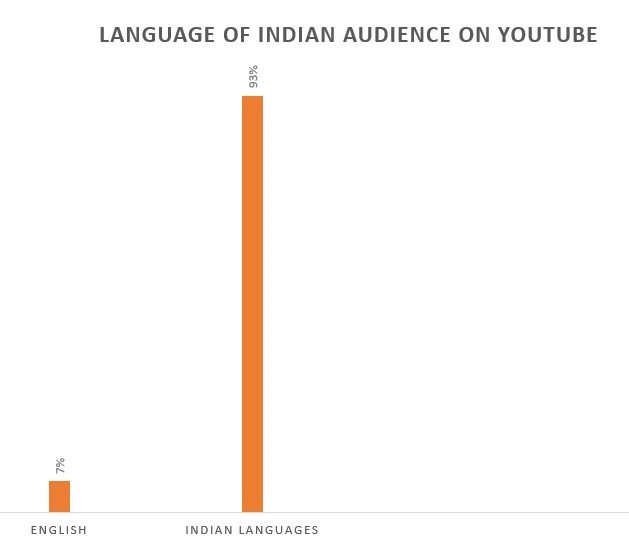 Figure 2: Share of audience of different languages
3 Wide variety of video content is another big reason why video streaming is increasing on a faster pace than ever before. People watch videos for every purpose – for pleasures, to learn new skills, to follow leaders of their choice, and much more. The new trend is to earn money through videos, which is giving rise to creator economy.
"…85% of consumers watch YouTube to relax and unwind while 70% use videos for credible content or sources of information. 65% of consumers use video to learn new skills."
Source: Financial Express (https://www.financialexpress.com/brandwagon/youtube-brandcast-2021-93-of-youtube-viewers-prefer-watching-content-in-indian-languages/2330697/)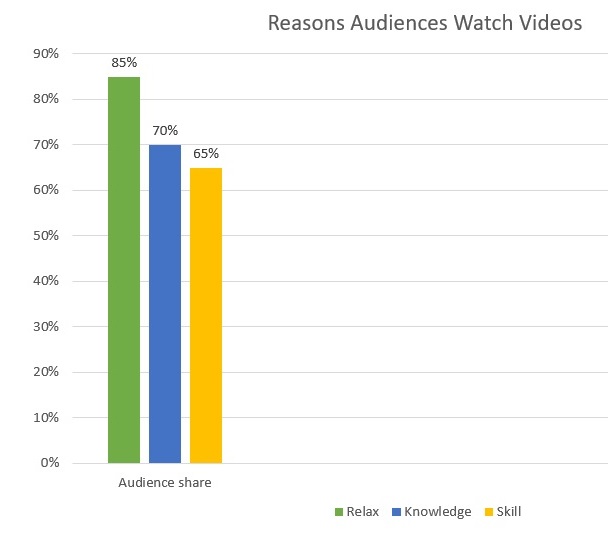 Figure 3: Reasons why audiences watch videos on YouTube
Solution: Increase variety of content, choose different platforms, support multiple languages
Given the facts, the creators must adapt to video content creation along with the web content to cater the requirement. If you run a knowledge based website, you must start a video channel along.
The website should be made mobile device friendly. This will boost viewership from the audience of all types and all ages.
Lastly, enable the website with multilingual facility if possible. This will enable the readers understand the content in the language of their choice.
2. We Snap through Content than Read it
With flooding of blog, vlog, web content, and video content on the internet for more than 20 years, the readers are now in a position that they can say they know this, they know that, they know almost everything.
They do not read each word in a sentence, or each sentence in a paragraph, or all paragraphs of an article. They snap through the content and move fast because they are familiar with many things. They understand that what is coming up in a certain sentence. Their eye mobility on content or device screen is very fast and they move on fast unless there is something new to hold them on.
Solution: Keep Description Shorter, Use Graphics
Readers do not like to ponder over a concept for long. Hence, the readers choose shorter description over the longer one.
However, remember I am saying shorter description and not shorter article. Because there are cases when the articles can be longer in nature or the SEO demands the web content to be in certain length.
Any article can be presented in seemingly shorter format. For this, I recommend to use block writing. You must divide your content in smaller blocks and give a heading to each block. Each article must have a meaningful title followed by a subtitle that should be explanatory, central to the concept of the topic of the article.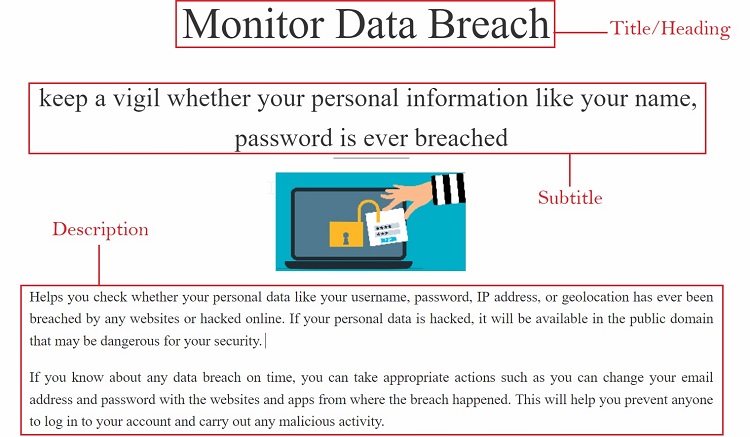 Figure 4: Block writing
This content is part of a long article.
This way the readers can understand by reading the headings themselves. They will read further only if required.
Grab the attention by graphics
Web content in the form of text only gives a bookish feeling. Focus more on visual than reading through the text. Whenever you have data that can be presented in visual, use the graphics. The readers will know the facts just at one look. Graphics support faster mobility of eyes on the screen.